Phone (419)878-8156
Another Advantage Rimer Enterprises is proud of is our tool shop.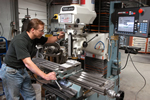 The tooling at Rimer Enterprises is made in-house. We have a tool shop with our quality die maker using two Vertical machining centers and other equipment to create the tooling necessary for your project.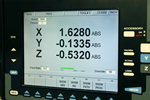 The tooling engineers work from CAD files in many formats including STEP – Solid, IGES, DFX. We can work from blue prints and also an existing part in some cases.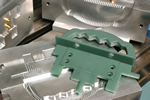 The tooling engineer creates tool paths from a 3 dimensional file and vertical machining centers to make the tooling for your casting. Care is taken to make sure we incorporate the proper shrink factor into the tooling for the alloy that your casting will be poured from.
The smoother the finish on the tooling the better the surface finish on your casting.
Our in-house tool shop allows us to control the cost as well as our delivery.

Home | Rimer Advantages | About Us | Advantages of Investment Casting | How It Works | Savings
Technical Information | Tolerances | Design | Alloys | Secondary Operations | Tool Shop | Machine Shop
Gallery | Contact Us | Latest News | Site Map