Phone (419)878-8156
Rimer Enterprises and our employees care about our customers.
The Rimer Advantage starts with an active owner who works the business everyday and makes sure that the operation in running properly and that Rimer Enterprises is looking toward the future needs of our customers.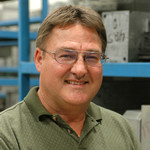 Chuck Myers, President/Owner started working in the investment casting business in 1977 on the shop floor and has worked in manufacturing, administration, and sales over the years.
Chuck knows the business well and responds to the immediate needs of our customers and makes sure the business can respond to their future needs.
We have many long term employees who care about the quality of our products and work to make sure they do everything possible to get you your investment castings when you need them.
In 2006, we purchased and installed a robot dipping system to reduce our lead-time through the shop and improve the consistency of our products. In addition, we purchased a machining center as well as other machines so Rimer Enterprises Inc. could offer value added operations.
Rimer Enterprises Inc. invites you to visit our plant and experience the Rimer Advantage.
Home | Rimer Advantages | About Us | Advantages of Investment Casting | How It Works | Savings
Technical Information | Tolerances | Design | Alloys | Secondary Operations | Tool Shop | Machine Shop
Gallery | Contact Us | Latest News | Site Map